It's time for another
Crazy Cooking Challenge
. I didn't take part in last months, because the theme was Ranch dressing and neither Randal or I like ranch, so I am happy to get back to the challenge this month.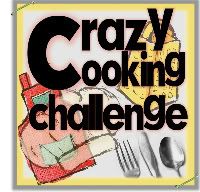 The theme for October is apple pie, which was a little scary for me at first, because I don't really make apple pies (or any kind of pie really!) so after looking around at many other food blogs, I decided on the apple pie bars from
Cooking Classy.
These bars were really easy to make, the pastry came together in just a few minutes and I made the apple filling while the pastry rested in the fridge. Randal and I both really liked these apple pie bars, especially with a scoop of vanilla ice cream.
Pastry:
2 cups all purpose flour
1/2 tsp salt
12 tbsp salted butter, cubed
1/4 cup +2 tbsp buttermilk
1 egg yolk
Filling:
6 granny smith apples
2 1/2 tbsp orange juice
1 tsp vanilla extract
1/2 cup all purpose flour
1/2 cup sugar
1/3 cup light brown sugar
1 1/4 tsp cinnamon
1/4 tsp nutmeg

1 egg white
1 1/2 tbsp sugar
1/4 tsp cinnamon
Vanilla Glaze:
1 cup icing sugar
2 tbsp milk
1/2 tsp vanilla extract
Preheat oven to 350.
In a large bowl, mix together the flour and salt. Cut butter into flour, add the buttermilk and egg and mix together until it forms a ball. Cover and refrigerate while you make the apple filling.
Peel, core and dice the apples, add to a large mixing bowl along with the orange juice and vanilla. In a small bowl, mix together the flour, sugars, cinnamon and nutmeg. Mix flour mixture with the apples and set aside.
Divide the pastry dough in half and roll out both pieces to a 13x9 rectangle.

Place one piece of dough in the bottom of a 13x9 baking dish, top with the apple mixture and cover with the second piece of dough.

Brush the top with the egg white and sprinkle over the cinnamon sugar.
Bake for 50-60 minutes, until pastry is golden brown and the apples are tender.

Remove from oven and leave to cool.
To make the vanilla glaze, combine the icing sugar, milk and vanilla in a small bowl and whisk until smooth.
Once the bars have cooled, slice into squares and drizzle with the vanilla glaze.