I am so excited to join the crazy cooking challenge this month. For those of you who do not know what that is, it's a group of food bloggers who are challenged every month to find the ultimate recipe for that month's theme, make that recipe and then all post them on the same day. Previous months have included fried chicken, macaroni and cheese, chocolate chip cookies and fruit smoothies.
I was so happy when I found out that this month's theme was cheesecake, as I have never actually made a cheesecake before (my husband is the cheesecake maker in our house!) so I thought this would be the perfect challenge for my very first crazy cooking challenge.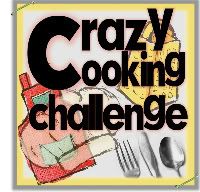 As soon as I found out the theme I went searching through food blogs pinning all the cheesecakes I would love to make. In the end I was torn between two - a cherry crumble cheesecake and a peanut butter truffle mousse cheesecake. I couldn't decide between them so I sent the links to my husband and gave him the deciding vote. So in the end the cheesecake I made was the Peanut Butter Truffle Mousse Cheesecake from
In Katrina's Kitchen
.
To put it simply, this cheesecake is amazing. It starts out with a peanut butter Oreo crust, a fluffy cheesecake filling, topped off with peanut butter truffle mouse, and decorated with whipped cream and a Reece's Peanut Butter Cup, and if that wasn't enough it's finished with a warm peanut butter sauce. Randal took this to his office and from what I hear everyone loved it. I am already planning to make this again because I want to try it using Nutter Butter cookies for the crust instead of Oreos, and as neither Randal or I are cool whip fans I want to make the mousse with real whipped cream (those would be the only changes I would make to this recipe).
Crust
2 cups crushed peanut butter Oreos
1/4 cup unsalted butter, melted
Cheesecake
4 (8oz) bricks of cream cheese, room temperature
1 cups sugar
4 eggs
3/4 cup heavy cream
1 tbsp vanilla extract
Peanut Butter Truffle Mousse
8 oz cream cheese, room temperature
2/3 cup peanut butter
1 tbsp milk
2 cups icing sugar
1 large tub Cool Whip
Reeses Cups
Peanut Butter Sauce
1/2 cup peanut butter
1 can sweetened condensed milk
1/2 cup butter
1 tsp vanilla

Preheat oven to 350 degrees. Wrap a 9 inch springform pan with foil.

Mix together the crushed Oreos and melted butter and press into the bottom of the pan and up the sides. Bake for 7 minutes and cool on a wire rack.

In the bowl of an electric mixer fitted with the paddle attachment, beat the cream cheese and sugar together until smooth. Add the eggs one at a time, followed by the cream and vanilla. Beat until smooth.

Pour the cheesecake filling into the prepared crust. Place the cheesecake into a roasting pan (or something large enough to fit the cheesecake pan) pour boiling water into the roasting pan until it reaches half way up the cheesecake.

Bake 45 to 55 minutes until the edges are set, but the center still has a jiggle to it. Close the oven door, turn the heat off, and leave the cheesecake to cool in the oven for 1 hour.
Then remove the cheesecake from the water bath and leave to cool completely on a cooling rack before refrigerating overnight.

To make the peanut butter mousse, in the bowl of an electric mixer beat together the cream cheese, peanut butter and milk until smooth. Beat in the icing sugar followed by the cool whip. Cover the cheesecake with the mousse and refrigerate for at least 3 hours.

To make the peanut butter sauce combine all ingredients in a small saucepan and heat until melted and combined.

We topped the cheesecake with fresh whipped cream that my husband made, but you could also use any leftover peanut butter mouse, and peanut butter cups and a drizzle of the peanut butter sauce.
Below are the other cheesecakes from this Challenge. If you like the look of mine, please click my thumbnail (number 21) to vote.
Linked to:
Michelle's Tasty Creations
,
Mom On Timeout
,
A Little Nosh
,
Two Yellow Birds
,
Made In A Day
,
The Ease Of Freeze
,
Miz Helen's Country Cottage
,
Five Little Chefs
,
Something Swanky
,
House Of Hepworths
,
Mandatory Mooch
,
Little Becky Homecky
,
Kitchen Fun
,
Blissful and Domestic
,
Craftionary
,
Rattlebridge Farm
,
Tutus and Tea Parties
,
Six Sisiters Stuff
,
Cheerios and Lattes
,
Addicted To Recipes
,
A Pinch of Joy
,
I Should Be Mopping The Floor
,
Pamela's Heavenly Treats
,
Create With Joy
,
Eye Heart
,
Flour Me With Love
,
Family Fresh Meals
,
Serendipity and Spice
,
Happy Homemaker
,
Skip To My Lou
,
Chef In Training