It's November 7th, so it's time for another
Crazy Cooking Challenge
. It is also one of mine and Randal's anniversaries today, we met on November 7th 2000. November is a bit of a scary month for Randal because he has 3 anniveraries to remember (we met on November 7th 2000, became officially a couple on the 17th 2001 and I came to America on the 27th 2002) and I make my poor husband remember them all!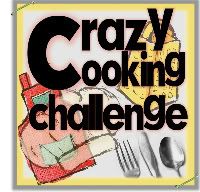 Anyway, back to the challenge. This months theme is stuffing and to be honest I have never made stuffing from scratch before. Growing up in England, stuffing was part of our traditional sunday roast dinner, but it was always sage and onion paxo. I still love the smell of that stuff - one of my guilty pleasures!
I spent quite a bit of time searching for a stuffing recipe that Randal might like (as he never eats the stuff!) and once I found Paula Deen's recipe made with Hawaiian sweet bread, apples and cranberries I knew I had to make it. I changed the recipe a little, I added sausage so it would appeal to Randal more and I added some herbs. We both actually liked the flavour of this, so I would say that my first attempt at homemade stuffing was a success.
8 cups Hawaiian sweet bread, cubed and toasted
1lb Italian sausage
1 cup dried cranberries
2 cups chicken broth
1/4 cup butter
1 onion, chopped
1 red bell pepper, chopped
1 cup chopped celery
2 granny smith apples, chopped
3 large eggs
1 can cream of celery soup
2 1/2 tsp dried sage
1 1/2 tsp dried rosemary
1/2 tsp dried thyme
1/2 tsp ground cinnamon
1/2 tsp salt
1/4 tsp black pepper
Preheat oven to 350.
In a small bowl, combine chicken broth and cranberries and leave to soak for 30 minutes.
In a large skillet, melt butter over medium heat. Add onion, pepper and celery, sage, thyme, rosemary and sausage. Cook for 5 minutes. Add apples and cook for another 5 minutes, stirring frequently. Remove from heat and place in a large bowl.
Beat 3 eggs in a separate bowl. Add salt and pepper.
In the large bowl with vegetables, stir in chicken broth mixture, celery soup, and cinnamon. Add toasted bread, stirring gently to combine. Add eggs. Spoon mixture into prepared dish and bake for 30 to 40 minutes or until center is set.